Plans to move Crieff police office being considered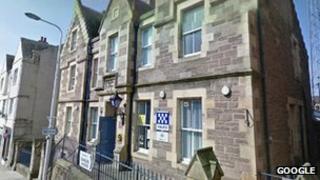 The relocation of the Crieff police office is being considered by Tayside Police and Perth & Kinross Council.
The station at Crieff has been in its current location for 100 years.
Tayside Police said the building contained a number of unused areas, such as the cells and doctors room, and was no longer fit for purpose.
A proposal has been put forward for a new office at Strathearn Community Campus. The plans will be on view to the public at the Campus next month.
Insp Iain Ward, the senior officer for the area, said the move was being considered as part of drive to improve the police operations in Crieff.
Good location
He said: "I have looked at different ways to increase our visibility and opportunities to engage with the public.
"The Community Campus is in a prime location to help us achieve this, it already houses excellent public services that are regularly used by large sections of the community."
Insp Ward added that the relocation was not an indication of cuts to come.
He said: "Naturally there may be concerns from the community, however, I would like to take this opportunity to reassure people that there will be no reduction in police numbers, or the service we currently provide.
"The move to the Campus can only be a positive one. Having an operational police office within a Community Campus is a new concept, but one which I think makes common sense in this day and age.
"We work with our partners on a daily basis, it makes sense that we can easily coexist together whilst improving the facilities we offer in a cost effective manner."
The public can view the plans for the proposed move at a drop in session at Strathearn Community Campus on Thursday, 8 November between 14:00 and 19:00.