Community service for Stirling woman behind 12-year-old girls' fight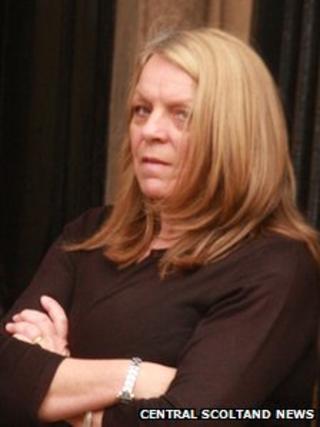 A grandmother from Stirling arranged a violent fight between two 12-year-old girls, a court has been told.
Stirling Sheriff Court heard Esther Doucette, 56, organised the fight from the doorstep of her house in the Braehead area of the city.
Doucette pleaded guilty to causing a breach of the peace by encouraging the children to fight.
Sheriff Kenneth McGowan sentenced the 56-year-old to carry out 60 hours of unpaid work.
The court heard Doucette offered to tie back the hair of one of the girls and then warned the other one: "You'll get the first punch, then she'll totally kill you."
Former friends
Elaine Johnston, prosecuting, said the incident began when a 12-year-old girl, who had been playing in a park with friends, was approached by another 12-year-old girl.
A verbal argument began when one of the girls, who had been friends, called the other "fatty".
The incident occurred on 4 June this year. The court was told the playpark was close to Doucette's home.
Ms Johnston said: "The accused shouted to one of the girls, 'come back at 8pm to fight... and you better be ready'."
Defence solicitor Stephen Macguire said his client was usually of "good character" and had been acting with the "best of intentions".
Mortifying behaviour
He said: "She accepts that she encouraged them to fight. She is of good character but let herself down here.
"Mrs Doucette accepts that she should not have intervened, and she is mortified.
"It's regrettable that this happened but I think she was acting with the best of intentions. At the time she felt she had to become involved but if she found herself in that situation again, she would do differently."
Sheriff McGowan sentenced Doucette to community work and told her: "What you thought you were doing is frankly beyond me.
"For a woman of your age to encourage two young girls to fight is quite ridiculous."