Dundee project aims to support vulnerable children and families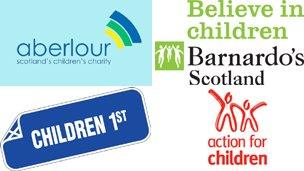 A new partnership has been launched offering support and guidance to families, children and young people in Dundee.
Four Scottish charities have come together to form the Dundee Early Intervention Team (DEIT).
The project is a partnership between Aberlour, Children 1st, Barnardo's Scotland and Action for Children.
The team aims to address problems facing children and families before the need for intervention arises.
DEIT will work with Dundee City Council, NHS Tayside and Dundee Voluntary Action to help families where the eldest child is aged between five and 12 and still in primary education.
The project has received funding for three years and will offer support, advice and guidance on all aspects of parenting, social, health or relationship difficulties.
Hillary Brookes, the team's manager, said: "We're excited that we've been able to create a cross-partnership team which will be working closely with a range of agencies from across Dundee to prevent problems from escalating and stopping the need for greater intervention which can only be a positive thing for the children and families we'll be working with."
Ken Dunbar, chief executive of Aberlour, said DEIT would bring together a wide range of skill and experience, which would hopefully influence other child services.
He said: "Commissioners are increasingly looking for service providers to work in a more joined-up manner and this unique arrangement in Dundee provides a template for new ways of working throughout Scotland, ensuring better co-ordination, an opportunity to build on our individual strengths and delivering greater efficiencies through shared costs."
Carol Iddon, director of children's services at Action for Children, said the scheme should allow professionals to get in contact with families sooner.
She said: "We know that early intervention can prevent issues becoming deeply entrenched within families, having long-term effects not only on them but on communities.
"By working with partner organisations as one dedicated team we can offer a full complement of tailored, specialist support; giving vulnerable families the tools they need to transform their lives and fulfil their potential."
Barnardo's Scotland said they were pleased to be taking a part in the new initiative.
Their director, Martion Crewe, said: "Working closely with partner organisations is essential if we are to be able to make a difference to the lives of the people who need our help the most."
Anne Houston, chief executive of Children 1st, described the project as innovative.
She added: "With the different strengths that each partner brings and by working with families at an early stage, we will provide vulnerable children and families in Dundee with the vital opportunities, skills and support they need to positively deal with the challenges that life brings."
Related Internet Links
The BBC is not responsible for the content of external sites.