Police hail crackdown on fake ID use in Stirling 'a success'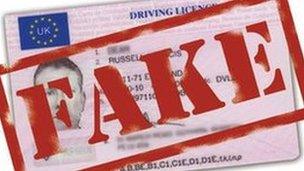 Officers from Central Scotland police have said efforts to crackdown on the use of fake IDs have been a success.
The force has been working with licensed premises in Stirling city centre to clampdown on under 18s using fraudulent cards.
The operation, which took place on 26 and 27 October, has also been credited with a decrease in anti-social behaviour in the city centre.
Central Scotland Police said further crackdowns would be carried out.
Sgt Jim Thomson said: "The operation was very worthwhile and attracted many positive comments from members of the public and licensing trade.
"There were a small number of cases where fake or fraudulent identification was used and these are now being investigated.
"Considering the amount of people who were challenged, the results were very encouraging and it appears the message is getting across."
He added: "This isn't a one off. We are determined that Stirling remains a safe place in which to live, work and enjoy an evening out and officers will continue to work in partnership with the licensing trade to be proactive in this matter."
Related Internet Links
The BBC is not responsible for the content of external sites.