Bannockburn Heritage Centre closes before demolition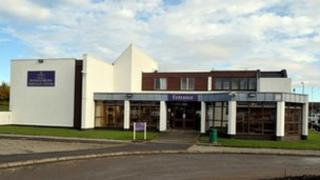 The Bannockburn Heritage Centre is to close its doors for the last time almost 50 years after it opened.
The centre, which was built in the 1960s, is to be demolished as part of plans for a new attraction to commemorate the historic battle.
Work is currently under way on a new centre; the steel frame for that building has already been completed.
A temporary exhibition space, to provide information on the battle, will be created in the meantime.
The National Trust for Scotland (NTS) and Historic Scotland are aiming to transform facilities at the site in time for the 700th anniversary of the battle in 2014.
As well as a new visitor centre, the Battle of Bannockburn project will see remedial works to the existing historic monuments, including the rotunda, flagpole and Bruce statue, all of which will be restored to their former glory.
Anticipated reopening
A temporary exhibition space will be open to the public near the building site from early November.
David McAllister, project director at NTS, said work was proceeding well and hoped the temporary exhibition would whet the public's appetite for the 2014 reopening.
He added: "The temporary exhibition will act as the key point for information on the Battle of Bannockburn project including the historic monuments at the Borestone site.
"It is not designed to be representative of what to expect in 2014, but to evoke the spirit of the project to heighten the sense of anticipation.
"With building, landscaping and conservation work all under way and at such a fast pace, visiting Bannockburn before the new visitor experience opens to the public in spring 2014 will certainly provide an exciting taster of what's to come."