Stirling 2014 clan event plans 'pleasing', VisitScotland says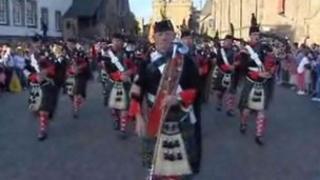 Plans for a clan event in Stirling are "coming together" despite the scrapping of an official celebration, according to Scotland's tourism body.
Stirling Council cancelled proposals for Clans 2014, a follow-up to the 2009 event in Edinburgh, earlier this month.
An alternative event is being considered by the US Council of Scottish Clans and Associations (Cosca) and its Scottish counterparts.
VisitScotland said they were very pleased with what was being planned.
At a meeting of Holyrood's economy, energy and tourism committee, convener Murdo Fraser described the cancellation of Clans 2014 as "a blow" to Scotland's Year of Homecoming.
Battle plans
VisitScotland chairman Mike Cantley told the committee: "Stirling Council bought the intellectual property rights for The Gathering, and intended initially to host a Gathering in mid-July in 2014.
"Subsequent to that though, in conversation with partners, the council decided that it would be better to support the National Trust for Scotland's (NTS) plans to celebrate the Battle of Bannockburn at the end of June, which is also in the city.
"My understanding is there will be a clan event at that time during the event. It will include features such as a clan convention and clan parade."
Earlier this month Stirling Council cancelled Clans 2014 "due to the scale, complexity, and reputational and financial risks inherent with a Gathering-style event".
Confused arrangements
All mention of Clans 2014 was deleted from the council website.
Following the cancellation Cosca sent an email to its 60,000 members urging them to "to put plans for travelling to Scotland in 2014 on hold" amid "confusion surrounding 2014".
VisitScotland contacted Cosca and it issued a second email stating it was no longer "confused" but remained "patient" for plans to come together.
"Americans are generally prudent people and prefer to know the facts of a situation prior to acting," the email states.
Mr Cantley told MSPs that Cosca and its counterparts in Scotland were "very pleased" with the plans that are unfolding.
Differing events
He added: "It would appear to be coming together well. There won't be a specific Gathering but there will be events that are important to the clan society surrounding the celebrations that NTS are leading at the end of June.
"People often put the two words Gathering and Homecoming together but they are actually quite different concepts.
"There won't be a Gathering as such, but Homecoming is a celebration that goes on all year and there will be events throughout the whole of the country, and we need to focus on that."
The first Year of Homecoming was held in 2009 to encourage people at home or abroad to celebrate Scotland's culture and heritage.