On-bail Perth woman jailed for stabbing disabled man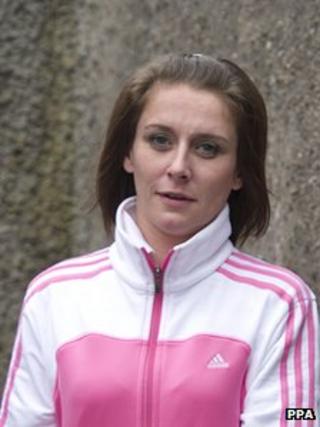 A woman "with a tendency to resort to violence" stabbed a disabled man with a vegetable knife just 48 hours after being freed on bail, a court has heard.
Yvonne Gow, 33, was jailed for 32 months at Perth Sheriff Court after her unprovoked attack left Alfred Dickson scarred for life.
She stabbed Mr Dickson five times.
Sheriff Lindsay Foulis also made her subject to a further 12 months supervision upon her release from prison.
The court was told that Gow, whose record shows 16 previous bail offences, was freed by a sheriff two days before she stabbed Mr Dickson five times and left him for dead.
Gow had been freed on bail from Perth Sheriff Court on 21 June after she admitted shoplifting charges, despite racking up a record showing 50 separate previous offences.
Drunken attack
Fiscal depute Charmaine Cole said: "Mr Dickson is 57 and is registered disabled due to a heart condition."
She said he, Gow and another man spent the day drinking vodka and eating together and they were all drunk by the time the incident took place in the early evening.
She told the court: "The accused, in an unprovoked attack, approached the complainer and struck him with her right hand below his shoulder area.
"His first reaction was that he thought he had been punched. But when he saw blood seeping from his T-shirt he realised it had been more serious."
The court heard the initial wound was minor and Mr Dickson simply changed his T-shirt and returned to the living room, but Gow attacked him again and stabbed him four more times.
Ms Cole said: "The complainer collapsed to the ground and the accused left. The complainer managed to get himself onto a couch in the living room and he slept overnight."
Permanently scarred
Mr Dickson remained on the sofa for a further 24 hours before eventually managing to go to Perth Royal Infirmary where he was found with a number of wounds
Ms Cole added: "It was the opinion of the medical staff that the scarring will be permanent. I don't know how many stitches were required."
Gow admitted attacking Mr Dickson at Bracken Brae in Perth by repeatedly stabbing him on the head and body.
She further admitted severely injuring and permanently disfiguring him while she was on bail.
Sentencing her, Sheriff Foulis said: "Your victim was disabled, suffered from a heart condition and also has an alcohol addiction problem. Your recent convictions show a tendency to resort to violence."