Abertay University helps Bafta winners start company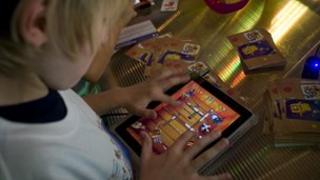 Computer programmers who won a Bafta for a game they created have started up their own company.
Swallowtail Games Ltd has been given £25,000 by Abertay University to help enter the games industry.
The team, comprised of students from Abertay and Norwich Universities, won the Bafta following its success in the Dare to be Digital 2011 competition with the game Tick Tock Toys.
The game is expected to have its commercial release next year.
Swallowtail Games was the winner of the Ones to Watch prize at the 2012 Bafta Video Games Awards.
Useful competition
Tick Tock Toys is described as "a fun and colourful iPad puzzle game for all ages" and the team has now been awarded up to £25,000 from the university's Prototype Fund to develop and test a complete game.
Sophia George, from the new company, said winning the award gave them a good start.
"It was really helpful. We did get lots of different contacts - we were in talks with different publishers. It didn't go through, but it was definitely very useful."
Company co-founder Kristian Francis agreed and said the recognition the award gave them was a big boost.
"I think there was just so much enthusiasm for the product that we had created at the Baftas," he said. "The people there we spoke to were really, really, enthusiastic about it.
"I think that was when we first realised that maybe we do have something that could actually make a bit of money here and be successful.
"We always designed it from the beginning to be a successful product anyway, but winning the Bafta made us think we may be on to something."
Prototype excuse
Ms George said the decision to become a proper games developer seemed natural.
"I've always wanted to start my own company," she said. "This prototype we had, seemed like the best excuse to launch a product.
"We've got this prototype, now we need to turn it from a student game into a commercial product that people will buy."
As well as the £25,000 investment, Abertay University is supporting Swallowtail Games by providing free studio space, computers and industry standard software.
Mr Francis said: "They've just been really supporting us with the technical needs and obviously now, with the prototype fund, a bit of money as well."
Ms George added: "We can pay our wages now, but not only that we're in a space with a lot of different developers, and we can talk and share ideas."
Capital problem
Paul Durrant, director of business development at Abertay, said the fund helped fill some gaps in the games development sector.
He said: "One of the things we noticed from working with small companies is that they have a real challenge around working capital.
"There is an additional thing of course as well, in that, if we help as small company we can then encourage them towards employing graduates.
"We believe the more graduate employment opportunities we can create, the better for the skills and talent base in the UK."
Although the fund is still in its early days, Mr Durrant said they have already had some successes.
He said: "A company went straight from receiving a £25,000 grant to receiving over £800,000 of publishing funding, they're busy using that funding working on a title that will be released early next year."
But he also suggested the fund was not entirely altruistic.
"If you think about the future, looking 10 years ahead when some of these companies are really successful, who knows they might come back here and endow a chair, they might become involved in research, they might sponsor our Dare to be Digital competition," he added.
"So we see it as an investment for the future in terms of our relationships with the games industry."