Thieves travelling to Tayside face police crackdown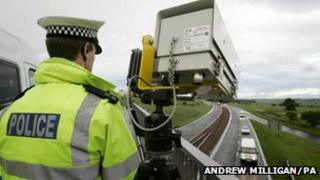 Tayside Police are to launch an initiative aimed at tracking down people who travel into the force area in order to commit crimes.
Operation Ainslie will see officers from the road policing unit using intelligence and technology to identify and stop suspect vehicles.
The force said it also intends to have officers out in visible numbers in order to deter and detect crimes.
The operation will run for several weeks.
Insp Iain Ward, the senior officer for south Perthshire, said they had learned lessons from previous incidents.
"Around this time last year a number of houses were broken into in the Braco area, these crimes were linked to similar ones around south section, north of Perth and elsewhere in Scotland," he said.
"We are determined to ensure that this doesn't happen again, so that everyone in the community can enjoy the lead up to the festive period without the threat of their property being targeted by travelling thieves.
"A team of officers including the road policing unit will be using intelligence and technology to identify and stop suspect vehicles, officers will be out in numbers to deter and detect individuals who think they can come to Tayside to commit crime."
Community support
Insp Ward also appealed for the public to contact them if they felt someone was acting suspiciously.
"We need the help of the community. Some of the best successes we have had are where the people who live and work in the area, have called us about something suspicious.
"These people know what is out of place and unusual and we need their eyes and ears to help us by contacting us when they notice something.
"Perth and Kinross, especially the rural areas, are some of the safest places to live in Scotland and we want to keep it that way."