Dundee man Ronald Fraser died after stab to his chest, a jury is told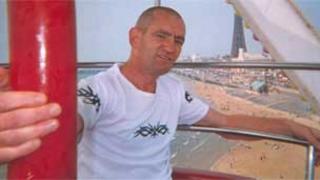 The victim of a murder in Dundee died after receiving a single stab wound to the chest, a jury has been told.
The High Court at Livingston heard Ronald Fraser was found lying dead in the living room of flat 9F in Elders Court in Lochee on 22 April 2011.
Callum Tole is alleged to have repeatedly punched the 44-year-old on the head and body and stabbed him on the body with a knife.
He denies the charges. The trial continues.
The court was told a knife, believed to be the murder weapon, was found wrapped in a blue curtain on the bedroom floor of a flat next to door to the one in which Mr Fraser died.
Blood stains
Blood was splattered on the walls and floor of the common landing outside the properties.
Inside flat the neighbouring flat 9H there were blood spots on the kitchen floor and blood stains on and around the bathroom sink.
Blood spots were also found inside Mr Fraser's flat, the jury heard.
A T-shirt the deceased was wearing, which is a Crown production in the case, had a 34mm cut to the fabric on the chest area.
Witness evidence
The prosecution and defence agreed a substantial amount of photographic, video, medical and technical evidence on the first day of evidence in the murder trial.
It included a recording of a 999 call to the emergency services by Mr Fraser's partner Lindsay Fraser and two other witnesses, Robert Ness and Paul Barbour.
It also revealed that Mrs Fraser identified the accused Callum Tole as the person she saw stab her partner in a video ID parade.
Temporary Judge Michael O'Grady warned the jury that there might be psychiatric and psychological evidence.
The case against Mr Tole was postponed from Monday after he sacked his original defence team.
Defence advocate Graham Robertson was confirmed as his new legal representative on Wednesday.