Man found guilty of Stirling church attack is jailed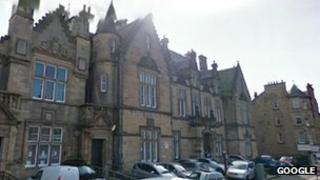 A man who drove a mother-of-two to a secluded church before sexually assaulting her has been labelled a danger to women by a sheriff.
John Quinn, 51, met his 33-year-old victim outside a Stirling nightclub before driving to Logie Kirk where he attacked her on 9 October 2011.
Quinn, from Sauchie, Clackmannanshire was found guilty last month.
Sheriff William Gilchrist jailed him for 18 months and placed on the sex offenders' register for five years.
Stirling Sheriff Court was told that the woman had been drinking and had been out on her own.
Building worker Quinn offered to run her home, but drove her instead to the car park of the isolated Logie Kirk, near the Wallace Monument, outside Stirling.
Similar case
The woman told a jury trial that Quinn repeatedly grabbed her and attempted to force her to kiss him, despite her saying that she did not want to and that she wanted to go home.
The court also heard evidence from another woman who said she had been picked up by Quinn in similar circumstances, though in her case he did not assault her.
Defence agent Alistair Burleigh said Quinn's wife and grown-up daughter were standing by him.
He added that Quinn had no previous convictions for sexual offences.
Terrorified victim
As well as sending Quinn to prison Sheriff Gilchrist issued him with a two year extended sentence during which he will be at large on licence but subject to recall to jail if he re-offends.
Sheriff Gilchrist told him he had caused his victim terror. He said: "You took her to a pitch dark car park next to a graveyard and there you sexually assaulted her.
"It caused her extreme distress, and it must have been a terrifying experience for her. You have been assessed as someone for whom there is a high risk of reoffending.
"I am satisfied that a custodial sentence is the only appropriate disposal."