Aslef condemns Inverkeilor derailment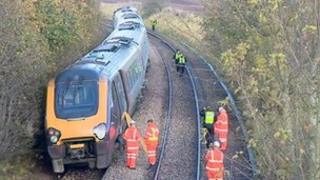 A train drivers' union has described the apparently deliberate derailing of a train in Angus as "callous and cowardly".
CrossCountry trains' 08:04 service between Edinburgh and Aberdeen came off the rails at Inverkielor on Sunday.
On Tuesday, British Transport police said they had found an obstruction that appeared to have been deliberately placed on the tracks.
Aslef said it highlighted the need for better education on rail safety.
The union's Scottish officer Kevin Lindsay said it was "a miracle" that no one was killed in what he called a "callous and cowardly" attack.
Fortunate result
There were 36 passengers onboard the train, which was travelling at 76mph when it came off the tracks at about 09:45 on Sunday.
Mr Lindsay said: "It was only good fortune that the train remained upright. We could have been talking about a common vandal deliberately inflicting a major loss of life.'"
Mick Whelan, Aslef's general secretary, said rail safety modules should be introduced into UK schools to highlight the dangers of such attacks.
He said: "An understanding of the dangers and potential tragedies on railway lines at a young age is vital. It needs to be embedded in our young people.
"We can't simply say that whoever did this is a wicked person and leave it at that. It is not one person. It is not an isolated accident, and it would be wrong to treat it as such."
He said trespass on the track and hurling missiles at trains, causing the risk of killing train drivers and passengers was "an endemic sickness in our society".
He added: "Whoever did this must be tracked down and punished. But that is not enough. We need to educate to prevent as well."