Dundee murder accused withdraws 'automatism' defence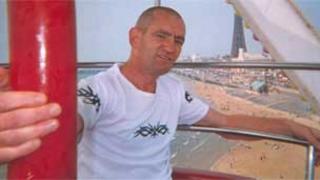 A heroin addict accused of a Dundee murder has withdrawn a special defence claiming he was unaware of what he was doing at the time.
Callum Tole had lodged a defence of "automatism", saying he was suffering from total loss of control when he allegedly stabbed Ronald Fraser.
The jury at the High Court in Livingston had been told Mr Tole might have eaten food "spiked" with drugs.
Mr Tole denies murdering Mr Fraser at a Lochee flat. The trial continues.
It was suggested to the jury that a Chinese meal he bought on the day of the murder had been tampered with.
Clear thinking
However, several police and medical witnesses have given evidence that Mr Tole appeared lucid after he was detained and that he had told them clearly what happened during the alleged incident.
Dundee GP Dr David Shaw, Tayside Police Force's medical examiner, told the jury on Friday that when he examined Mr Tole less than 24 hours after the alleged attack he was "clear throughout and fully complied with my examination".
Withdrawing the special defence, Mr Tole's senior counsel Graham Robertson said it "did not meet the test of law required" in the light of evidence led by the prosecution.
The jury also heard the results of forensic tests of blood spots and clothing taken from the murder scene.
No blood
Michelle Teppett, 46, a forensic biologist with the Scottish Police Services Authority in Dundee, said a sharply pointed kitchen knife with a seven-inch blade which was recovered from the flat where Mr Tole was detained "could not be ruled out" as the murder weapon.
However, she said no bloodstains or DNA could be recovered from the knife, possibly because it had been wiped clean or washed.
A further blood sample taken from the front of Callum Tole's right trainer matched the DNA profile of muscle tissue taken from Mr Fraser after his death.
Advocate depute Sheena Fraser asked her: "Is it possible that Mr Tole was in the proximity of Mr Fraser when he was bleeding from the chest area?"
She replied: "That's one possible explanation, yes."
Callum Tole, 28, a prisoner at Perth, denies murdering 44-year-old Mr Fraser on the common landing of high flats at Elders Court, in the Lochee area of Dundee on 22 April 2011.
He is alleged to have repeatedly punched Mr Fraser on the head and body and stabbed him on the body with a knife. He denies all the charges.