Rosendael veterans home in Dundee criticised by watchdog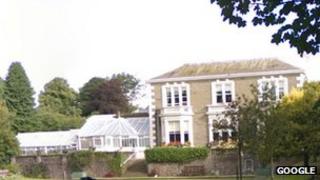 A watchdog has issued a critical report into a home for military veterans in Dundee which has been at the centre of two investigations.
The Care Inspectorate had received a number of complaints about the Rosendael Veterans' Residence.
It found the quality of care, staffing and management to be significantly weak.
The home was also at the centre of a police investigation after the sudden death of a former RAF serviceman.
The report was compiled following an unannounced inspection which took place over four days.
Beneficial experience
Inspectors found there was no evidence to support allegations of a climate of bullying and intimidation.
They noted that some of the residents at Rosendael, which is run by Scottish Veterans Housing Association (SVHA), had benefited from their time at the home with service users feeling able to move on and were able to find employment and had reduced feelings of anxiety and improved self-esteem.
However, the report said there had been evidence of dissatisfaction.
It was noted that the veterans home provided a controlling environment which some service users described as regimented.
Service users' claimed they felt they were given limited choices and and were disempowered, others had said that they were not treated with respect.
The inspectors said the areas of weakness were 'significant'.
Improved training
The Inspectorate has recommended that policies and procedures on staff practice and operations be reviewed and the culture of control seen during inspection must be addressed.
They also called for training and development opportunities to be introduced for staff to address areas such as values and standards in practice.
Ian Ballantyne, the chief executive officer of SVHA, said he welcomed the report.
"My colleagues and I are very heartened by the many positive comments about Rosendael and the staff made by residents, their relatives and others throughout the report.
"We know these positive views are shared by a large majority of those who currently live at the facility and they put some of the recent complaints into perspective."
No dismissals
Lt Col Ballantyne said the recommendations would be taken on board.
He added: "I am pleased that there has been no requirement or recommendation to dismiss or discipline any of our staff, another key point which also puts the severity of complaints made against our people into perspective.
"While we feel that many of the requirements and recommendations made in the report will ultimately improve the service we provide for veterans, we believe that the complaints prompting it, which came from a small minority of residents, must be looked at in the appropriate context."