Faycal Assaoui jailed for belt attack on partner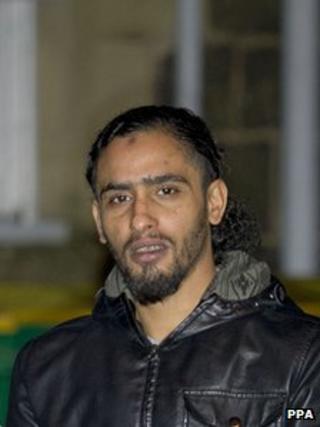 A man who punished his partner for disobeying him by lashing her with a belt has been jailed for 12 months.
Perth Sheriff Court heard that French national Faycal Assaoui's attack on Susan Stirton on 30 October left her legs and buttocks covered in bruises.
The 35-year-old admitted attacking his partner by repeatedly striking her on the body with a belt.
His lawyer told Perth Sheriff Court that Assaoui, a Muslim, had found it hard to adjust "culturally".
Sheriff Lindsay Foulis described the assault as "totally unacceptable".
Assaoui's attack on Ms Stirton, who has arthritis, took place a month after she gave birth.
Threatening behaviour
Fiscal depute Catherine Fraser told the court that Assaoui had walked out of a meeting with social workers at the end of October and threatened to smash his partner in the face with an iron.
He shouted to her: "Do not speak to me in front of my son. I have warned you."
He then threw her onto the floor.
The prosecutor said: "He removed his belt from his jeans and repeatedly struck the complainer on the legs and buttocks. Throughout this time she shouted and screamed for help.
"She suffers from arthritis and her joints are already in pain. She described this assault as excruciating. She was extremely distressed."
Solicitor Billy Somerville, defending, said: "He confirms and accepts he has certain problems, some of which are cultural difficulties. He accepts he will require to change.
"He accepts he will have to undertake a programme to be part of the community. He feels he needs help."
He said his client realised that a woman should not be treated in such a way.
"He has had difficulty adjusting culturally but realises he now must," he added.
Sheriff Lindsay Foulis told Assaoui it had been a "very serious" offence.
"It involves violence to a partner of a significant nature and the circumstances surrounding it displays, in my view, the attitude you have towards your partner.
"By that it seems that if she doesn't do or act as you say then she takes the consequences. The consequences on that day involved a totally unacceptable attack upon her.
"It is made worse by the fact she suffers from a medical condition which may well have rendered the blows she received more painful, and the fact that a month before she had given birth to your child and may have been more physically vulnerable."