Clackmannanshire consultation on school holiday changes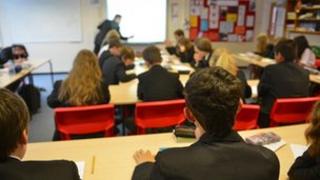 School pupils in Clackmannanshire could be set to have their summer holidays at a different time.
The local authority is launching a consultation on the pattern of school holidays.
The council is considering changing the existing provision of seven weeks holiday in the summer with one in October, to six weeks in the summer and two in October.
No change will be made to school schedules until 2015/2016.
The consultation was agreed at a meeting of the Education, Sport and Leisure Committee.
Along with Stirling and Falkirk Councils, Clackmannanshire uses an agreed formula in setting the pattern of school holidays.
It was agreed shortly after the creation of the unitary authorities, recognising that pupils from all three local authority areas attend schools in other local authority establishments.
The current set up allows a degree of flexibility with the setting of occasional days such as one-off local holiday and in-service days.
Councillor Ellen Forson said: "Given the lapse in time since the pattern of term dates was set, now is an appropriate time to ask parents and other interested parties what their preference would be.
"In particular, views will be sought on whether there is support for a longer October break."
The consultation will begin at the end of this month and run until February with a report on its findings in 2013.