Blind cord danger campaign in Clackmannanshire and Stirling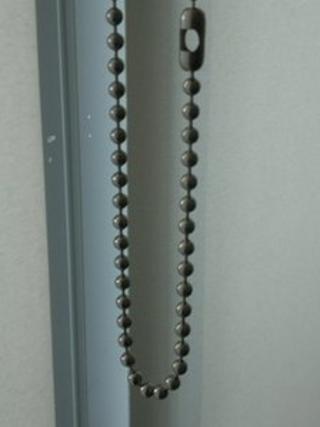 A campaign to highlight the dangers associated with looped blind cords has been carried out Clackmannanshire and Stirling Trading Standards Service.
The cords can pose a risk for babies, children and vulnerable people, causing strangulation or serious injury.
Trading Standards has issued more than 3,000 'Make It Safe' packs to local nurseries and playgroups.
They include information as well as a special cleat to keep cords out of the reach of children.
Looped cords are a common mechanism on blinds and other window dressings currently fitted in UK homes.
Research suggests that most accidental deaths involving blind cords or chains happen in the bedroom and occur in children between 16 months and 36 months old, with the majority (more than half) happening at about 23 months.
Reduced risk
Current advice suggests cords should be kept out of the reach of children.
The cleat provided with the 'Make It Safe' packs can be wrapped around cords to remove them from reach and have been designed to reduce the risk of injury.
Clackmannanshire Council leader Gary Womersley said: "Our Trading Standards Service has done a magnificent job in highlighting the dangers of blind cords and chains to many local groups and parents across the area.
"However, there may be some people who would like a 'Make It Safe' pack, and we would urge them to get in touch with our Trading Standards Officers who can help them reduce the risks to our young citizens."