Work begins to restore Bruce statue at Bannockburn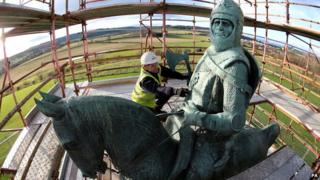 The restoration of a weather-beaten statue of Robert the Bruce has begun ahead of the 700th anniversary of the Battle of Bannockburn in 2014.
Scaffolding has been erected around the Charles d'Orville Pilkington Jackson monument to the Scottish King.
The statue, at the battle site near Stirling, was unveiled by the Queen in 1964.
The National Trust for Scotland and Historic Scotland are working to transform the site by 2014.
The monument, which depicts an axe-wielding Bruce on his war horse, was originally cast in bronze but it has been weathered over the decades and is slowly turning green.
'Original glory'
A notice pinned to a fence at the site said: "Work is now under way to clean, repair and fully wax seal the sculpture, following procedures based on best conservation practice.
"This will return the work to its original glory and has been used to good effect recently on the Boer War Memorial to Argyll and Sutherland Highlanders at Stirling Castle."
The granite plinth on which the statue sits is also said to be "in need of attention", as a number of units have moved out of alignment.
Work will be carried out to realign the masonry to ensure no water enters the structure and damages it.
The restoration work is expected to continue to the middle of next year.
A new visitor centre is also being built at the site in time for the 2014 anniversary.