Vector Aerospace to create 30 jobs at Perth workshop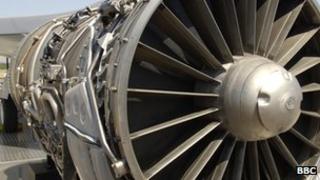 An international aircraft maintenance firm has announced plans to employ an additional 30 engineers at its workshop in Perthshire.
Vector Aerospace has been given two Scottish Enterprise grants worth £250,000, allowing them to invest in a new training programme.
As well as the 30 new posts, the firm is developing its Almondbank facility to take on the repair of aero engines.
The new work is expected to create a further 40 jobs in the long-term.
The announcement comes at the end of a turbulent year for Vector Aerospace, which announced at the start of 2012 that it would be restructuring its business, following the loss of a major contract.
In April, Vector announced the Almondbank factory would no longer maintain and repair components from Lynx and Sea King helicopters.
Welcome development
Since then, Scottish Enterprise has been working to support the company's proposals for modernisation.
Finance Secretary John Swinney said: "I am delighted to hear about the positive developments at Vector Aerospace and the creation of new jobs and investment is good news.
"Vector Aerospace have recognised the strength and talent of its Scottish workforce and it is clear the company has confidence in the future of the Almondbank facility.
"The Scottish government, through Scottish Enterprise and Scottish Development International, have worked closely with Vector Aerospace over the last six months and will continue to do so as Vector develops its future plans."
Managing director of operations at Scottish Enterprise, Jim McFarlane, said: "Vector Aerospace is a great example of a company that is continuing to invest in its people and its facilities to maintain a competitive edge in today's challenging economy.
"We've worked closely with the company in recent months through our account management approach and we look forward to helping the company explore new market opportunities at home and internationally to support future business growth."
Mick O'Connor, the firm's business director for component services, said it had received a "vote of confidence" from Scottish Enterprise and the Scottish government.
"For our part, we are also investing in the future of Almondbank by transferring equipment and capabilities from other Vector Aerospace facilities to the site here in Perthshire and investigating new market opportunities, including composite repair technology and aircraft landing gear," he said.
"By doing this, we have been able to re-employ a number of people we lost earlier this year, which has been great for morale and confidence at the site.
"This is only the beginning."