Abertay researcher develops new foot print tracing method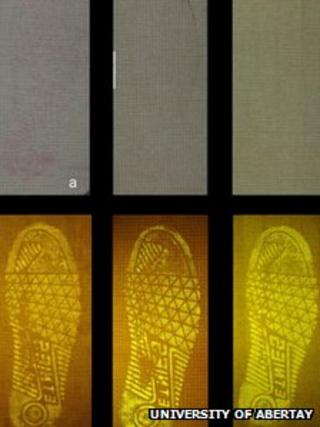 A University of Abertay researcher has developed new techniques to recover invisible prints left on fabric by the sole of a person's shoe.
It is thought the procedure could be used by police to identify criminals in cases where no fingerprints or DNA can be recovered from the scene.
The method is developed from existing techniques.
Last year, Abertay announced it had recovered "latent" fingerprints from fabrics for the first time
But until now, the recovery of latent footwear marks had been something of a pipedream.
Contaminated footwear
Dr Kevin Farrugia recovered the latent footwear marks left on fabrics by adapting and modifying existing print visualisation techniques.
He said: "Footwear marks can be made in many contaminants, for instance blood, mud, urine and dust.
"They can be left on all sorts of different fabrics, like cotton or denim, as well as on patterned and dark material, which makes them more difficult to see".
He said the technique would not work for the first few prints left by someone who had walked through fresh blood, as the print would only be a wet smudge.
Pattern revealed
But he said subsequent prints could be traced.
"As the marks fade and becomes less visible, the pattern on the sole of the shoe, by contrast, becomes much clearer and better defined.
"And it's these prints - the ones that we can't actually see - that are the most useful at a crime scene, especially when it isn't possible to recover other types of evidence such as fingerprints and DNA, because they can tell you things like what size, and even what brand, of shoe the perpetrator was wearing when they committed the crime.
"More importantly, because everyone walks differently, the sole of their shoes will have acquired what we call random and individual characteristics that are specific to that shoe and person, which means, when the police have got a suspect, they can get their shoes, and if the shoes match, it can lead to a conviction."
New focus
Previous attempts to recover footwear marks from fabrics have generally obliterated - rather than enhanced - images, because the right mix of the right types of chemicals had never been formulated.
However, funding from the Home Office, the Engineering and Physical Sciences Research Council (EPSRC) and the University of Strathclyde has allowed researchers to turn their attention to the topic.
Dr Farrugia's research was carried out at the University of Strathclyde, where he was awarded his PhD.
Since joining Abertay, Dr Farrugia has written a set of guidelines that explain which technique should be used for which contaminant, on which type of material.