Dundee's velodrome re-opened following refurbishment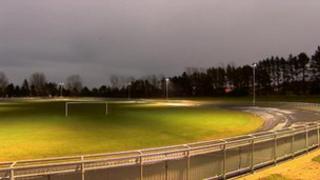 Dundee's outdoor velodrome has been officially re-opened following a £320,000 refurbishment.
The Caird Park facility, which was built in the 1950s, has seen its 400m track completely resurfaced.
As well as upgrading of the track, the Dundee City Council has installed improved floodlights and fencing.
The work was carried out after criticism of the poor state of the velodrome, which had fallen into disrepair.
The new track has been officially unveiled by the Minister for Commonwealth Games and Sport Shona Robison MSP.
Transformed site
She said: "The new and improved Caird Park Velodrome will provide an excellent facility for all up and coming cyclists.
"Track cycling was, without doubt, one of the highlights of this year's Olympics and I'm pleased to see this excellent resource in promoting physical activity and leave a lasting legacy that can be enjoyed for years to come."
City Council Environment Convener Councillor Craig Melville said: "This work has transformed the velodrome and I am delighted that local cycling has received such a significant boost.
"Cycling is a popular sport in Dundee, with enthusiastic participants encouraged by clubs and coaches.
"We are also grateful to sportscotland for their funding assistance in this major project. I would also like to thank the Discovery Junior Cycling club for all their help."
Enhanced reputation
Councillor Melville added: "The city council is investing in sporting facilities across Dundee, so that people can take part in a range of activities and stay fit and healthy.
"I am pleased that this facility will help to enhance Scotland's growing reputation for cycling excellence in the lead-up to the Commonwealth Games."
Sportscotland contributed a grant of over £121,000 to assist the council's investment in the facilities.
Ian McGregor, sportscotland Partnership Manager for Dundee, said: "At a time when cycling has never been more popular, we are delighted to invest £121,111 in the development of Caird Park to ensure this venue with a long history has an equally long-term future.
"At sportscotland we are committed to developing and supporting a world-class sporting system at all levels, and the redevelopment at Caird Park will not only pave the way for talented cyclists to hone their craft, but as a Community Sport Hub, will play an important role in providing opportunities for the local community to become involved in sport as part of a healthy, active lifestyle."