Poem chosen for Battle of Bannockburn monument restoration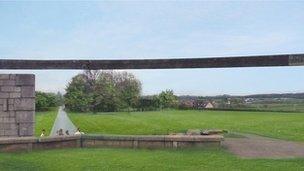 A poem is to be inscribed on woodwork at the Battle of Bannockburn monument commemorating the historical event.
Scottish poet Kathleen Jamie's work was one of ten poems commissioned by Historic Scotland and the National Trust for Scotland.
It is to be displayed on the timber ring beam which crowns the rotunda at the heritage site.
The poem was chosen for the site after the ten works were ranked by the public.
The National Trust for Scotland (NTS) and Historic Scotland commissioned ten Scottish poets to write new works about the famous site and the surrounding landscape in partnership with Creative Scotland and the Scottish Poetry Library.
The writers were asked to explore the significance of the Bannockburn battlefield to people today.
All ten were published for the first time on www.battleofbannockburn.com where the public could vote for their favourite.
Organisers said Kathleen Jamie's poem won by a clear majority.
The judges, including the Scots Makar Liz Lochhead, and experts on Bannockburn and the Rotunda monument, spent several hours deliberating on the poems, and ultimately came to the same conclusion as the public in choosing Jamie's poem.
The project team were said they were so impressed by the high quality and diversity of poems commissioned that they hope to publish them all together in time for the 700th anniversary of the battle in 2014.
The other poets were: John Burnside, Robert Crawford, Douglas Dunn, Alec Finlay, Valerie Gillies, William Letford, Aonghas MacNeacail, Tom Pow and Robin Robertson.
The poetry competition was part of the Battle of Bannockburn project to transform the monument to the site.
New facilities are being built, including a visitor centre with state-of-the-art interpretation of the battle and a programme of conservation, restoration and enhancement of the commemorative park and its flagpole, Bruce statue and Rotunda monuments.
Kathleen Jamie said: "From the start I wanted this piece of work to make a nod to the Scottish literary tradition.
"More than a nod - a profound bow. Because Barbour, Burns and Scott had all written about Bannockburn, and had all done so with a four beat line, I decided my piece would be in tetrameter too, as a homage."
David McAllister, project director at NTS said: "The rotunda monument is the central place for commemoration of the battle of Bannockburn.
"Our intention is to continue that tradition of memorial and contemplation by adding the new, thought-provoking element of contemporary Scottish poetry by Kathleen Jamie.
Related Internet Links
The BBC is not responsible for the content of external sites.