Dundee man jailed for possessing 'extreme pornography'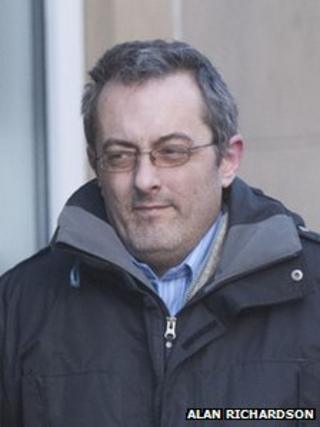 A Dundee man caught with thousands of indecent images of children and more than 200 hours' worth of "extreme pornography" videos has been jailed.
Dundee Sheriff Court was told Steven Ryder was found with more than 4,000 images of children and more than eight days' worth of bestiality videos.
Ryder was told he would be imprisoned to "protect children and women worldwide".
Sheriff Richard Davidson jailed Ryder for the 45-year-old for 20 months.
The court heard that Ryder had "immersed" himself in online pornography and had lost almost all contact with the world.
Computers seized
Fiscal depute Trina Sinclair told the court that Ryder, 45, spent most of his days playing computer games and accessing adult websites.
She said police raided his home after a tip off and seized desktop and laptop computers, hard drives and discs.
There were thousands of images of children - some as young as three - being sexually abused.
They also found a folder called "zoo" - with sub folders in it called "chimp", "ape", "horse", "dog", and "eel", each containing pictures of women with animals.
Miss Sinclair said: "He initially denied that any indecent images would be found but later the computer crime unit found indecent images.
"In total there were 4,309 indecent images of children found, as well as one hour and 37 minutes worth of video clips. On other equipment there were images and video clips of bestiality located.
"The majority featured women in sexual activity with dogs and horses. However, some involved women with octopi. In total, 561 video clips were found and it would take a total of more than eight days to watch it all."
Supervision order
Ryder, 45, from Dundee, pleaded guilty on indictment to charges of taking or making indecent photographs of children between 11 June 2002 and 1 April 2011.
He further admitted having in his possession extreme pornography, namely images of bestiality, between 2 February 2000 and 19 March 2011.
Sheriff Davidson also imposed a three year extended sentence on Ryder, meaning he will be supervised upon his release.
Ryder will also be on the sex offenders register for 10 years.
Sheriff Davidson said: "You had images featuring women having sexual relations with an extraordinary range of animals, as well as some of the most extraordinarily vile material I've ever had the misfortune of viewing.
"You need help - but that won't help the children who have been damaged for profit or the women who have been humiliated by having relations with animals and exposed to frankly unspeakable risks.
"The only option that can protect the public worldwide is to impose an extended sentence."