Perthshire couple map Masai Mara after getting lost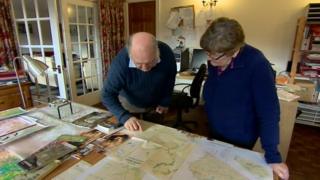 When David and Rosemary Watson took a wrong turning in Africa they never imagined it would lead to more than 10 years re-mapping some of the continent's wildlife reserves.
It was 1999 and the couple, who live near Crieff in Perthshire, were on a trip to Kenya.
They had ventured into the Masai Mara game reserve in the south west of the country and became lost.
David, who describes himself as an arrogant half-Scottish Englishman, blamed the map they were using.
Once they had returned safely to the Kenyan capital Nairobi, he took himself off to the headquarters of the country's wildlife services authority.
Offer accepted
David had drawn orienteering maps covering the UK a quarter of a century earlier and told the Kenyan officials he could create a better map of the Masai Mara.
He was asked to put that in writing.
David said: "About five days later I had a letter from the director of the Kenyan Wildlife Service saying, 'Thank you very much, Mr Watson. We'd like to take up your offer.' And he gave me five national parks to do!"
That work began on 22 December 1999 and it continues to this day.
They started, of course, with the Masai Mara and so far the Watsons have also re-mapped the Nairobi National Park, Amboseli National Park, Lewa Wildlife Reserve (where Prince William and Kate Middleton got engaged) and the Ngorongoro Crater in neighbouring Tanzania.
Challenging task
David and Rosemary run their map-making operation from their bungalow in Perthshire.
Rosemary is the cartographer and uses a computer to create the maps.
She said: "It has been a considerable challenge every day and will continue to be, I think. But I do enjoy it most of the time."
GPS and satellite imaging means quite a lot of the work can now be done at home but the fine detail can only be checked on the ground and that means the Watsons have to make regular visits back to their beloved Africa.
The continent holds a special place in their hearts. They met in Uganda when they were working there as teachers.
Work continues
Next year, they will be publishing an atlas they have worked on, with partners both here and in South Africa, of another of the world's iconic wildlife gems, the Serengeti National Park.
David said they have also just begun talks on another major project.
"We're just discussing with a sponsor in Kenya the possibility of rolling out maps of every single wildlife park and national park in Kenya, and I think there are 70."
The couple, who are now both approaching 70, are also working on an expanded map of the Masai Mara ecosystem.
They will soon be heading back to Kenya from their Perthshire base for a month of final checking on the ground; their skills making part of the African continent a little safer for those who will follow in their footsteps.