Dundee University to trial solar-powered bins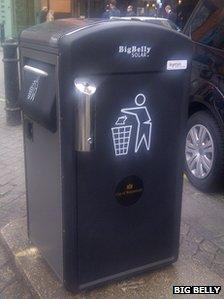 Ten solar-powered bins are to be installed on the University of Dundee's campus.
A Zero Waste Scotland grant of £41,000 has allowed the university to purchase the new "Big Belly" bins.
The high-tech bins use solar power to compact materials, allowing them to hold up to eight times more rubbish than a standard model.
Their increased capacity reduces collection trips, fuel costs and greenhouse gas emissions by 80%.
The bins will also generate free wi-fi hotspots.
Trudy Cunningham, environment and sustainability officer at the university, said, "Litter is a problem which affects communities up and down the country, and as such we are delighted to receive this funding to help us address the root of the problem, developing a new approach to prevent littering from occurring.
"The Big Belly bins feature a Wireless Management System which provides online access to real time bin fill levels, reducing the number of collections required by 86% and making this service more efficient.
"If successful, we hope this innovative new approach could be rolled-out further."
The funding comes from a £250,000 Litter Prevention Innovation Fund, launched by Zero Waste Scotland for the first time earlier this year.
The fund aims to provide community groups, local authorities, businesses and landowners with the opportunity to trial innovative new ways to prevent littering and capture more valuable materials for recycling.
Iain Gulland, Zero Waste Scotland, said: "By piloting new ways to prevent litter, we are empowering local communities to tackle litter problems head on.
"Over the last year, we have also invested around £750,000 to see more recycling units installed in busy public places in Scotland.
"These facilities will make it even easier to recycle when you are out and about, just as many already do at home."
Related Internet Links
The BBC is not responsible for the content of external sites.