Councillors back Perthshire electricity substation plan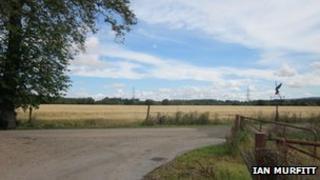 Plans to build a large electricity substation on east Perthshire farmland have been approved by councillors.
At a special meeting at Perth and Kinross council member approved the proposals by Scottish Hydro Electric Transmission Limited outside Meigle.
The planned substation structures would be 11.3m (37 feet) tall and sit on 7.3 hectares of land near Haughend Farm.
The substation is part of the Keith to Kincardine East Coast Reinforcement Project to upgrade power lines.
There was only one objector the plans by Scottish Hydro Electric Transmission Limited.
Hugh Stewart, who owns Haughend Farm, had complained over the loss of prime farmland and noise.
Minimal impact
The construction of the substation is to take place over an 18-month period and will result in a major building and roads infrastructure project.
SSE said the site was chosen to minimise the impact of the reinforcement project, as it lies directly where power lines serving the north of Scotland and the Dundee area run in parallel and would not require the erection of pylons.
A spokesman for SSE said: "The transmission network owned and managed by Scottish Hydro Electric Transmission Limited was originally designed to serve rural communities with relatively low demands for electricity.
"This increase in requests for renewable generation connections to the electricity network is placing a new and significant requirement on the transmission system that exceeds the existing capacity on the east coast."