Jail for man who asked Tayside police to act as taxi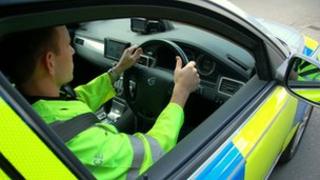 A 21-year-old man who used the 999 emergency number to ask Tayside police to give him a lift home has been jailed for a total of 15 months.
Greg Smith was locked up after Perth Sheriff Court was told he had failed to carry out community-based sentences which had been imposed previously.
Smith had admitted misusing the emergency call out number on 2 September 2011.
Sheriff Lindsay Foulis told Smith he had "pushed me beyond the limit."
Sheriff Foulis said: "All I can say is that you don't get it. It's not rocket science. You think you have a green light to behave in any way you want because in your mind you have a get out of jail free card.
"You have, as far as this sheriff is concerned, pushed me beyond the limit. Your problem, sunshine, is that you can't control yourself when you drink."
999 calls
Fiscal depute Catherine Fraser told Perth Sheriff Court he made three calls to the police in the space of about 40 minutes.
In one call when he was asked why he needed help he said he was fine, but just needed a lift.
Ms Fraser told the court: "He was arrested by police and stated: 'I only wanted a lift home. Who else was I supposed to call?' While the officers were explaining the nature of the charge, he swore at them."
The court heard that officers had driven out to the remote rural location Smith was making the calls from and issued a warning to him before leaving him behind.
But Smith was adamant he wanted the police to act as a taxi and he called again a few minutes later - so the officers returned and arrested him.
He was taken to Tayside Police HQ and kept in a cell overnight.
'Buck up ideas'
Smith, 21, from Alyth, Perthshire, admitted persistently misusing the 999 service at Barvick Cottage near Crieff on 2 September last year.
Lindsay Foulis told him: "Put bluntly, this is a guy who needs to wake up and smell the coffee. He really has to buck up his ideas.
"His record is not minimal, although relatively speaking it is nuisance value."
He told Smith: "We have got to get it into your head that if you carry on in this manner you will lose your liberty. It is immature nonsense at the age of 21. You have got to grow up."
Smith also admitted a string of other offences including vandalising a car, smashing a door, breaking a window and being abusive to police officers.