Plans submitted for 270 house development in Dundee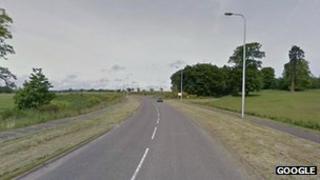 Plans for one of the largest housing developments in Dundee for more than ten years have been submitted to the city council.
Taylor Wimpey and Bett Homes have lodged a planning application to build about 270 new homes on the Linlathen Estate.
The four-hectare site lies on the eastern edge of the city off the A92.
Both firms claim the £30m development could create more then 200 jobs over five years.
The proposed site already has most of its infrastructure installed after work by Dundee City Council and the landowner.
Ideal location
Mr Bob Hyslop, managing director of Linlathen Developments, who are co-ordinating the project on behalf of the two house builders, said: "This site is ideally placed. All the planned renewable energy projects and enterprise zones will be in the east of the city and the council expects a number of them to come to fruition soon.
"A supply of new houses close by is essential for all those taking up the new jobs which will be created. On this site we can supply these homes very quickly."
Bett's land director, Campbell Black, said: "Linlathen is one of three sites we currently propose to develop in Dundee and we are excited by the prospect of returning to the community where it all started."
Mr Hugh Niven, the owner of Linlathen Estate, said, "When the A92 was being made a dual carriageway Dundee City Council had the foresight to see the benefit of servicing a large site in a proven popular area of the city.
"They approached me, offering to share the cost of a new road over the Dighty into Linlathen to open it up for development. Services were installed at the same time.
"The Council now has an opportunity to benefit from its investment and at the same time create construction jobs for an industry on its knees."
Speeding up plans
Both companies said they were also lodging a submission to alter the new Draft Development Plan for Dundee.
They said the proposed amendment would allow the project to proceed more quickly.
Taylor Wimpey East Scotland's Technical Director, Derek Wilson, said, "We are keen to make progress with this project as Dundee will soon need more homes in this part of the city.
"Given that Dundee City Council had the foresight to make the investment in the access road and services, we could realise this investment and start immediately should planning permission be granted.
"It is, therefore, an excellent time to take advantage of this position and we look forward to working with Dundee City Council and our development partners to deliver what will be an exciting development opportunity".