More than 1,000 people respond to Angus park closure plan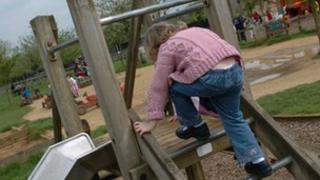 More than 1,000 people have submitted their views on Angus Council's plans to close 51 play areas across the county.
A public consultation was launched after councillors were told several play areas obsolete, difficult to repair equipment or did not meet current health and safety standards.
The authority was also told cutting the number of play areas in half would save Angus Council £31,000 a year.
The results of the consultation will be considered in January.
While the proposals could see play areas removed, the council has stressed the surrounding park areas would not be affected and would remain open.
Responses appreciated
Convener of Neighbourhood Services, Councillor Donald Morrison said: "I'd like to thank everyone who took the time and trouble to fill in the survey forms and hope that by extending the time available to do this, everyone who wished to do so was able to express their opinions.
"The next step will be a report to committee in January where we will look at the details of the survey results for each area, and decisions will be made at a later date."
The report, which came before the council in October, identified 51 play parks with 173 items of equipment that could be removed and 50 play parks which should be retained and developed.
Reduced budget
Members were told of the 50 play parks proposed for retention, 28 sites were in need of upgrading, ideally within the next one to three years, at an estimated cost of £1.21m.
Removing the equipment from the 51 sites that face closure would also require further funding of around £705,000 in addition to the £1.21m, putting the total funding needed for play areas at £1.91m.
It comes as Angus Council faces a potential £45m shortfall in its capital programme funding.