Olympic pool team to create new Perth swimming complex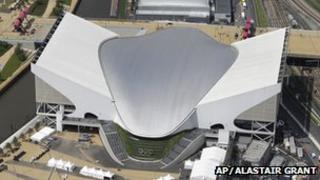 The company who came up with the world famous London Aquatic Centre has been selected to help create a new pool for Perth.
Live Active Leisure (LAL) has appointed S & P Architects as the design team for the city's leisure park project.
The new sports complex will replace the Dewars Centre and leisure pool in Perth.
S & P Architects were also the team behind renovation of the Royal Commonwealth Pool in Edinburgh.
The centre will provide swimming facilities for the Perth and Kinross area for the next 20 years.
Sustainable design
Bill Duncan, chairman of LAL said: "We are delighted to appoint such an experienced team to consider this project.
"We are keen that any development reflects our key themes of sustainability, demand and aspiration, and S & P Architects have the experience to deliver this."
Perth & Kinross Council Deputy Leader, Councillor Alan Grant added: "Two years ago the Council made a £5m funding commitment towards the development of a new pool and leisure complex in Perth by Live Active Leisure.
"We look forward to seeing more detailed plans being brought forward by LAL."