Couple jailed for attack on Spanish tourists in Perth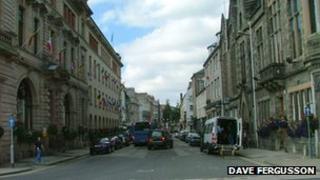 A couple who launched a racist attack on a group of Spanish tourists in Perth are to spend Christmas in prison.
Louise Burden and Ross Frankowski, who have a young child, were both jailed on Wednesday for the unprovoked assault on 18 June this year
Perth Sherriff Court heard the visitors were so distressed they fled Scotland and vowed never to return.
Sheriff Valerie Johnston called their behaviour "disgraceful" and "horrifying".
The court heard the Spanish tourists were walking along Perth High Street when they were set upon by Burden and Frankowski, along with their friend Dayne Cairns.
Fled Scotland
The tourists told police they had been so distressed by what happened that they were flying straight home to Spain and would never set foot in Scotland again.
Fiscal depute Robbie Brown said: "They were tourists. They left this country and never want to return to Scotland again after what happened to them.
"They were all extremely distressed by the incident and all very frightened by what might have happened to them.
"They indicated to police they wanted to leave as soon as possible and would not be returning to this country again."
The court was shown CCTV of the six Spanish tourists, aged between 55 and 62, walking along Perth High Street at 22:30 on Monday, 18 June, this year.
Burden, 21, can be seen running up and attacking one of them, knocking her victim to the ground, before her partner Frankowski, 28, and his friend Cairns, 23, join in.
Burden, from Perth, admitted punching and kicking a group of people after shouting, gesticulating and struggling with them.
Child concerns
Frankowski and Cairns both admitted breaching the peace.
Cairns had already been jailed for 90 days; Frankowski was given the same sentence, while Burden was jailed for 40 days.
Burden begged the court not to jail her because it would pose "issues" with childcare if she and her partner were both in prison at the same time.
But Sheriff Johnston disregarded their pleas telling the pair they should be "totally ashamed" of themselves.
She told them: "This was a totally disgraceful attack on a group of mature Spanish tourists. It was a horrifying experience for them, right in the heart of one of Scotland's most beautiful and historic cities.
"It resulted in trauma for innocent Spaniards - one of whom was trying to help Ms Burden. These people made it very clear they would never be back in Scotland, never mind Perth."