Dundee Waterfront set for major change in 2013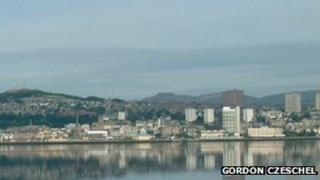 The body behind the regeneration of Dundee's riverside have said more than £100m of capital projects will either be started or completed during 2013.
Dundee Waterfront said work will begin on the £45m V&A Museum, the new £14m Dundee Railway Station and the £30m Riverside flats development.
The projects reaching completion next year are the £32m Olympia Swimming Pool and new £8m Malmaison Hotel.
To date, nearly £500m has been committed to the Waterfront project.
A planning application has also just been submitted by Unicorn for a new £7m hotel at Customs House and Harbour Chambers.
Transformational project
Next year will also see the demolition of Tayside House, the Hilton Hotel and the Gala Casino, upgrades to the Tay Road Bridge and the replacement of Station Bridge and South Marketgait Bridge.
The £1bn Dundee Waterfront project, which spans 240 hectares of land stretching 8km along the River Tay, is the second largest regeneration project in Scotland.
It is estimated that more than 9,000 new jobs will be created as a result of the investment in the city.
Mike Galloway, Dundee's director of city development, said: "We are very pleased with the rate of progress and the interest that is being generated in Dundee Waterfront.
"We are delighted with the amount of investment being generated by local businesses and, increasingly, by inward investment.
"2013 is set to be a watershed year as we close in on £500m of committed investment, or half the overall target of £1bn."
Allan McQuade, business infrastructure director for Scottish Enterprise, said: "The Dundee Waterfront Project has a pivotal role to play in helping the City of Dundee stimulate economic growth both for Tayside and the wider Scottish economy.
"This significant level of investment will help transform the Waterfront area through major infrastructure improvements that will deliver economic benefits both today and in the future.
"The progress to date has been very encouraging and 2013 promises to be an exciting year as the vision for the Waterfront continues to emerge along the banks of the Tay."