More than 1,000 speeders caught in Tayside in one month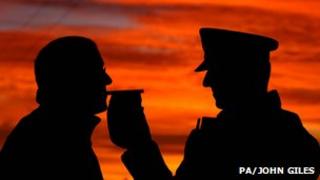 A month-long crackdown on driving offences in Tayside has caught more than 1,000 speeders and 40 drink and drug drivers.
This year's festive campaign saw traffic police spot more than 500 drivers breaking the speed limit, with another 900 caught by speed cameras.
Officers also detected 37 drink and three drug drivers.
Another 176 people were caught not using a seat belt and 120 spotted on their mobile phones while driving.
The campaign, which was launched at the beginning of December, also saw Tayside police seize 36 vehicles which were being driven without insurance or a driving licence.
The force said those caught could expect to receive fines or have endorsements imposed on their driving licences over the next few weeks.
Police also said they been contacted by concerned members of the public about 17 drivers who were found committing drink or drug driving offences while a further 10 drivers were found to be over the legal alcohol limit as a result of having been involved in a road traffic collision.
Safer roads
Ch Insp Sandy Bowman, head of road policing said: "Once again I cannot thank enough the responsible members of our communities within Tayside for their excellent support of our efforts during this campaign.
"Throughout this period, their contribution has resulted in a large number of detections for drink or drug driving and I thank them for their assistance in making the roads of Tayside safer."
He added: "Of those drivers we arrested, some have already appeared at court and have received fines ranging from £300 to £750 and have been disqualified from driving for the minimum period of 12 months and up to three years.
"I know that some of them are already regretting their actions and are now suffering the consequences of these penalties and the full effects that this will have on their personal and family life and employment."