Diary depicting life in Stirling 200 years ago goes online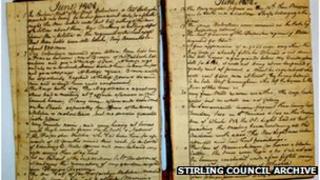 A 19th century diary is giving people in Stirling the chance to see what their lives would have been like 200 years ago.
Stirling resident Dr Thomas Lucas recorded his daily life from 1808 to 1820, documenting all sorts of interesting topics to do with the town and surrounding area.
The council's archive is now posting his entries for 1813 in an online blog.
His entries can be read through the Stirling Council Archive website.
The diaries contain Dr Lucas' views on the area, his family and business life, and local events as well as international affairs.
Preserving history
Staff from the authority's archive will be fully transcribing the diaries and releasing each diary entry exactly 200 years after it was written.
They will also use the material to research the life of Dr Lucas and his family, while ensuring that the original volumes are preserved for posterity in archival quality housing.
The archive holds two diaries written by Dr Lucas and a Memorandum book.
Written in the early 1800s, the diaries provide an account of Stirling life before the city's first newspapers came into print, providing evidence about local events and news that are not recorded anywhere else.
The entries already paint a curious picture of the city 200 years ago.
Dr Lucus' entry for 1 January 1813 read: "The weather very mild. No riots on the streets this year on the New Years morning."