Plans for a new V&A museum in Dundee get £4m in private donations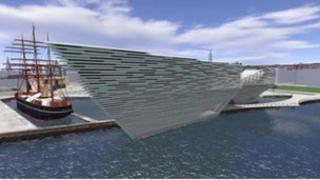 Plans for a new V&A museum in Dundee have received a significant financial boost.
The project has secured £4m in private donations. The Scottish government has already pledged £15m towards the £45m cost.
The new donors are a mix of individuals, trusts and foundations.
Housed in a landmark building designed by architect Kengo Kuma next to the River Tay, the V&A will showcase the best in Scottish design.
The body behind the V&A said the donations meant the project was on track to meet its funding goals.
Welcome support
Development Director Sandy Richardson said: "The private donations announced today mean the project is well on its way to achieving the £45m fundraising target.
"We are absolutely delighted to be able to make this announcement and are extremely grateful to those individuals and organisations who are supporting the project.
"It is a wonderful show of confidence in V&A at Dundee."
The funding announcement comes as the latest building plans are displayed in a new exhibition open to the public between the 17 and 19 January at the Bernard King Library at University of Abertay.
Visitors will be able to see outline plans for the new site alongside the latest visuals and vision for the project will be on display.
'Good progress'
Architect Kengo Kuma's revised plans show the V&A at Dundee moving shorewards, closer to the RSS Discovery and other city attractions and into the heart of Dundee's redeveloped central waterfront.
Philip Long, director of V&A at Dundee, said: "We remain absolutely committed to developing an outstanding building to good time and on budget.
"Our proposal for the location of the building gives Dundee greater certainty of this, while retaining the integrity of Kengo Kuma's design for a new institution of national importance.
"We are looking forward to sharing with the public these latest plans, and are delighted to report such good progress is being made on fundraising."
The revised plans for the V&A will be lodged with Dundee City Council later this year following a 12 week public consultation period.