Previously unseen Vincent Rattray paintings on show in Dundee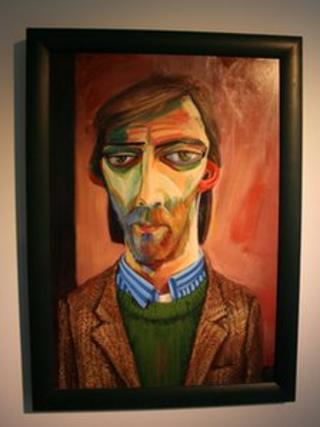 A collection of previously unseen paintings by the artist Vincent Rattray are to go on show for the first time.
The exhibition has been gathered together from family members who inherited the works after his death.
The paintings will be displayed at the Hannah Maclure Centre gallery in the University of Abertay, Dundee.
Exhibition curator Clare Brennan said: "It's a great honour to put many of these paintings on show for the first time."
She said it was an overwhelming task to sort through such a large body of work.
"There were a great many paintings in his studio when he died, and he had also gifted painting to family members over the years," she explained.
"When he passed away he left a prolific body of work which was then divided between family members.
"When we started speaking to the family we realised the vast numbers he had painted. It was quite overwhelming."
Dundee influence
The process also uncovered a previously unknown quantity of paintings of Dundee, where the artist was born and raised.
Evan Rattray, Vincent's son, said: "One obvious influence on my father's painting is, of course, Dundee. He loved the place, the people and its humour.
"Quite often people say that they find his work slightly unsettling, which I can understand, but I don't think that was ever really his intention. Whenever I went to his studio he was always urging me to find the humour in his paintings.
"I think that was important to him. Maybe he thought unsettling people was funny!"
His influences were varied and included the German artist Otto Dix, famed for his aggressive approach to colour, perspective and depicting characters affected by war.
Clare Brennan said she hoped the exhibition would encourage more people to appreciate Rattray, who died in 2000, and perhaps uncover more previously uncatalogued work.
She said: "Those who know about him feel like they are in on the secret, they revere his work. I'd be really interested to hear from people who have an original in their possession."