Fuel lorry fire closes A90 near Perth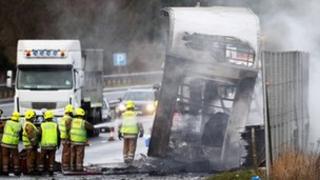 A lorry which caught fire on the A90 causing severe disruption to northbound traffic travelling from Perth has been recovered and the road re-opened.
The vehicle, which police said was carrying bitumen fuel, caught fire at about 04:30 at Kinfauns.
Fire and emergency services closed the road northbound, with seven mile tailbacks reported during the morning rush hour.
Police re-opened one lane of the road just after 07:00.