Probe into woman's death after fire at Stirling care home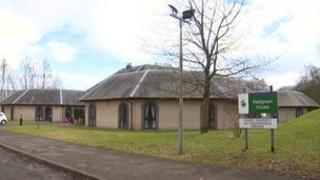 Investigations are under way into the death of a 99-year-old woman in a care home in Stirling.
She was badly burnt in a fire in the smoking room of Wellgreen House on Wednesday. She was taken to hospital but later died of her injuries.
Stirling Council runs the care home.
The local authority said police, the Health and Safety Executive and the council's own health and safety staff were involved in reviewing all aspects of the incident.
It is understood the woman's hair caught fire while she was lighting a cigarette. She was burnt on the head and back.
Fire crews responded to an automatic alarm, but the fire had been put out by staff in the home by the time they arrived.
A spokesman for Stirling Council said: "On 13 February at Wellgreen Nursing Home, an elderly resident was involved in a fire in the smoking room and sadly has since died in hospital.
"Council Health and Safety staff, police and staff from Health and Safety Executive have been involved to review all aspects of the incident and their reports are awaited."