Police warning over purse snatchers in Stirling and Grangemouth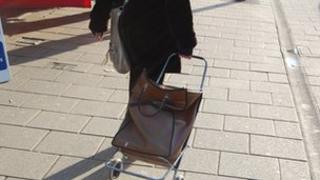 Central Scotland Police are urging shoppers to be on their guard after several reports of elderly women having their purses stolen.
Officers said the victims were targeted in Stirling and Grangemouth on Thursday 14 February and Friday 15 February.
Police said the women had their purses snatched from their bags as they were shopping.
The force is advising people to keep bags closed and to use a "purse bell" to alert them when it is moved.
They also urged additional caution when in crowded shops.
A force spokesman said: "We urge everyone to be vigilant to this type of theft, keep your purses in closed bags and watch for anyone suspicious.
"Consider using a 'purse bell' attached to your purse to alert you.
"Such crimes are not that common, however cause upset and distress to victims."