Waterfront to host Dundee's first five-star hotel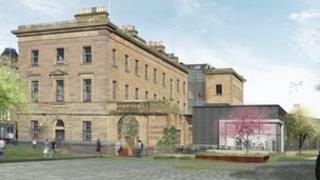 The body behind the regeneration of Dundee's Waterfront has announced that the city is to get its first five-star hotel.
The former Customs House and Harbour Chambers is being converted into a 38-bedroom luxury facility.
It is one of three new hotels opening at the Waterfront during the next two years; along with Malmaison and the new Railway Station Hotel.
Dundee Waterfront said the new hotels will create more than 200 jobs.
It also confirmed plans for a new hotel at Greenmarket with capacity for up to 180 rooms, while the Landmark Hotel, which is located just outside the Waterfront, is set to become a Doubletree Hilton in the spring.
Significant investments
The 93-bedroom Malmaison will open this autumn, followed by the Customs House and the Railway Station.
Mike Galloway, Dundee City development director, said: "It is very rewarding that so many hotel and tourism businesses are making significant investments in Dundee and playing a vital role in the regeneration of the Waterfront area.
"The new hotels are well timed in advance of a variety of major tourism and infrastructure developments in the city, the largest of which is the new V&A at Dundee, on which work will start later this year.
"The rising investment in Dundee Waterfront, and the city region, is generating hundreds of millions of pounds of additional revenue and creating exceptional opportunities for ambitious businesses.
"We are encouraging entrepreneurs to visit the city and to see these investment opportunities first hand."
Economic catalyst
Allan McQuade, business infrastructure director for Scottish Enterprise, said: "The expansion of Dundee's hotel sector will enable the city to accommodate the forecast growth in business and leisure visitor numbers to the city.
"The Dundee Waterfront Project is playing a key role helping the City of Dundee stimulate economic growth both for Tayside and the wider Scottish economy."
Dundee Waterfront said about £130m of capital projects will either be started or completed during 2013, taking the amount of committed investment for the riverside regeneration project to nearly £500m; half of Dundee Waterfront's £1bn target.
The project will see the redevelopment of 240 hectares of land stretching 8km along the River Tay and is the second largest regeneration project in Scotland.