Remembering Dundee's 'forgotten heroine'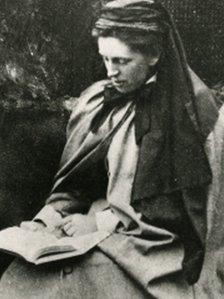 Researchers are planning a new book, and a series of events, to commemorate the centenary of the death of Mary Lily Walker.
She was the first to gather evidence on housing and the health of women working in Dundee's jute factories.
At the time, one in five babies born in the city died before their first birthday.
It's claimed her findings were influential in the establishment of the National Health Service.
And campaigners say she lay down many of the priorities still adopted by the contemporary early-years movement, which recognises the first three years of a child's life as crucial for its development.
Dr Suzanne Zeedyk, an academic at the University of Dundee specialising in parent-infant communication, admits that Mary Lily Walker's name is largely unknown.
But she told BBC radio's "Good Morning Scotland" programme: "You can see her work everywhere.
"For me, her primary legacy is that she contributes to what is a growing early-years movement.
"We now understand the importance of the earliest years between birth and three."
Mary Lily Walker set up pioneering restaurants across Dundee at which mothers who agreed to stay off work and breastfeed their babies could get free meals.
She was instrumental in establishing a dispensary, and a women's hospital, in the city.
And, it's argued, work that she did for a Royal Commission on housing went on to influence Sir William Beveridge when, decades later, he wrote his report social care in 1942.
Dr Zeedyk says all those initiatives came about because Mary Lily Walker applied the scientific principles she was taught as one of the first students admitted to Dundee University College when it opened in 1883.
"She was among the very first people to have the idea of gathering evidence," said Dr Zeedyk. "So she brings her scientific training to the practice of social work.
"People just didn't know about the lives of the poor and so she produces empirical evidence that forces people to sit up and take notice.
"And there are lovely anecdotes about her. People say 'well, yes, but we don't like the implications of what your report shows'. Apparently she stuck to her guns and kept saying 'are the numbers accurate?'."
The work of Dundee's Social Union has been recognised by history. But the credit has mostly gone to the men who were involved in the organisation.
"She has been forgotten," Dr Zeedyk concedes. "And you could ask why has she been forgotten.
"Part of it is probably because World War One comes so shortly after her death. But it's also because she was so humble. And because she was a woman.
"If you look through the historical records, the credit goes to the men running Dundee Social Union.
"But she is the life and breath behind Dundee Social Union. What's important to her, though, is her work, not credit to herself. So she simply got forgotten."
Events as part of the Dundee Women's Festival, and more planned for June 2013, aim to restore her place in history.
Many of them will take place at the Grey Lodge Settlement, a community centre Mary Lily Walker established before her death.
Related Internet Links
The BBC is not responsible for the content of external sites.