Footballer denies Ibrox Disaster remarks but faces probe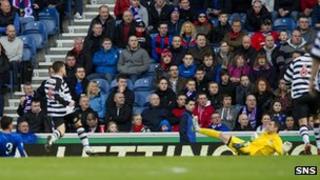 Footballer Brett Molloy has denied he made offensive remarks about the Ibrox disaster that have led his club, East Stirlingshire, to apologise to Rangers.
The Under-19 player faces police and club investigations after the remarks on social media site Facebook.
"I've been hacked and now getting thousands of hate mail," he said on Twitter. "I have nothing to do with this and it will be investigated.
"I've been training and no idea what's been happening. Totally shocked."
Mr Molloy is alleged to have made remarks about the 1971 crush among the crowd at a match against Celtic that led to 66 deaths and more than 200 injuries on an exit stairway to Rangers' ground, Ibrox Stadium.
Despite his claims of having his account hacked, Shire printed an apology to their Scottish Third Division rivals on their website and announced that disciplinary proceedings have begun.
'Potential outcomes'
Chairman Tony Ford said: "The player concerned has already been spoken to by club staff and has been told he will be the subject of a disciplinary procedure.
"I will not prejudge this, but I believe the individual concerned understands the possible implications and potential outcomes."
Mr Ford pointed out that the club and the Professional Footballers' Association in Scotland had warned players about the potential risks of using social media.
The chairman stressed that the club had participated in initiatives to "combat sectarianism, bigotry and hate" and that he felt a "sense of shock and revulsion" over the remarks.
"I am horrified that a player connected with our club can express such opinions," he said. "I am sure all Shire supporters will join me in condemning these words.
"On behalf of everyone at East Stirlingshire Football Club, I would like to apologise for the actions of this individual.
'Sickening posts'
"As chairman of the club, I would like to express deep regret for the distress these words will have caused the families of those who lost their lives in the Ibrox Disaster.
"I would like to say sorry to all Rangers supporters for the grossly offensive nature of the descriptions used and I would also like to apologise to the officials, staff, coaches and players of Rangers Football Club."
Shire's apology was replicated on Rangers' website and the Glasgow club added: "East Stirlingshire have issued a full apology to Rangers Football Club following sickening posts made by one of their club's teenage players on a social networking site about the Ibrox disaster.
"The 1971 disaster, in which 66 people died, resonates deeply with all Rangers supporters and it is truly abhorrent that anyone could see fit to mock such a tragedy.
"Rangers condemns the sickening comments made and we note East Stirlingshire have issued a swift apology to everyone connected to the club."
Shire had lost 3-1 at Ibrox on 2 March after taking a surprise lead over the league leaders.
Strathclyde Police said: "We can confirm that a complaint has been received and inquiries are ongoing."