Perthshire man Peter Millar jailed for raping two women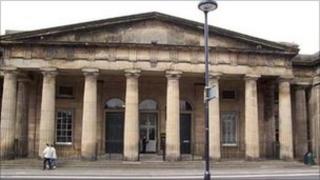 A former postman who crept into the homes of two women and raped them in their own beds has been jailed for seven years.
Peter Millar, 44, of Scone in Perthshire, was placed on the sex offenders register after a jury found him guilty of the offences.
The High Court in Perth heard he struck first in 2006 before carrying out the second attack five years later.
He was subsequently charged with stalking one victim on Facebook.
Lord Bracadale told Millar: "The jury found you guilty of raping two women.
"You have no relevant previous convictions and a reasonable work record.
"Taking the two charges together, you will be sentenced to seven years imprisonment."
In their beds
Millar, of Mayfield Terrace, was convicted of assaulting and raping one woman in his home town of Scone between 1 September and 30 December 2006.
The jury also found him guilty of attacking and raping a second woman in the neighbouring Perthshire village of Stormontfield between 25 February and 13 March 2011.
On both occasions, he was found guilty of entering their homes uninvited, entering their bedrooms, climbing into their beds and raping them.
Millar was originally charged with causing the second woman fear and alarm by repeatedly sending text and Facebook messages and harassing her with phone calls.
He was also accused of watching her home and following her.
Those charges were dropped by the Crown.
Counsel Ronnie Renucci, defending, said: "It is perhaps unsurprising that, throughout the reports, Mr Millar is someone who maintains his innocence in relation to these matters.
'Maintains innocence'
"Standing that, and the verdict of the jury, there is really nothing I can say in relation to the offences themselves.
"Although he still maintains his innocence, he accepts the jury has convicted him of these charges."
He said Millar accepted and recognised he had been convicted of serious offences and a jail term was inevitable.
"He is a mature man and someone who, up until now, has been a net contributor to society," Mr Renucci added.
"He has been in full-time employment most of his adult life and has reached this stage with only one minor previous conviction.
"This is the first time he has ever been in custody."
Millar's attacks came to light after the two women, who lived a few miles apart, began to talk to each other through social media site Facebook.