Clackmannanshire Council welcomes Alloa court closure postponement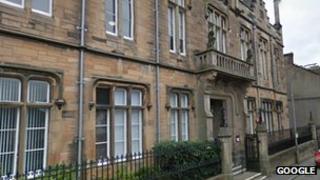 The recommendation to postpone a decision to close Alloa Sheriff Court has been welcomed by Clackmannanshire Council.
It was one of 11 sheriff courts marked for closure across Scotland.
However, a report by the Scottish Court Service has recommended that plans to shut Alloa Sheriff Court should not go ahead at this time.
The SCS said currently there was not enough additional capacity at nearby courts to move ahead with the closure.
A proposal had been made to close the Alloa court and move business to Stirling and Falkirk.
Clackmannanshire Council had strongly opposed the plans on the grounds that it would leave the local authority as the only one in Scotland not to have a Sheriff Court within its administrative area.
The SCS published its report on Tuesday, following its consideration of responses received from a public consultation held last year.
Necessary closure
The report said: "We do not intend to pursue the Alloa proposal. In the period since publication of our consultation document we have explored a number of options at both Falkirk and Stirling to determine whether additional courtroom accommodation could be provided within the footprint of the current buildings.
"We remain of the view that, given the proximity of Alloa to Stirling and Falkirk, our proposal to close Alloa and move the solemn business to Falkirk and the summary and civil business to Stirling is consistent with our vision for a modern court service and aligned to the Judicial Principles on Access to Justice.
"However, until such time as additional capacity can be provided in Stirling or Falkirk, either by a reduction in business or creation of additional courtroom space, we do not propose the closure of Alloa at this time."
Clackmannanshire Council leader, Councillor Gary Womersley said: "A total of 320 responses were made to the Scottish Court Service on the proposal to close Alloa court and only six of those agreed with the suggestion.
"The role of local courts in delivering justice and providing access to justice is valued by communities and a community the size of Clackmannanshire needs a local court. That strength of feeling is evidenced in the response to this consultation."
The final decision on Alloa Sheriff Court's future rests with the Scottish government.