Alan Cumming stars in Birks Cinema reopening gala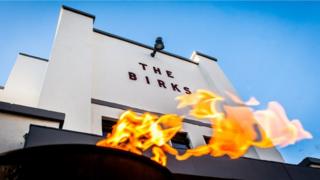 Screen and stage actor Alan Cumming has welcomed the first film fans to the reopening of a 1930s cinema in Perthshire.
The Birks Cinema in Aberfeldy, which fell into decline in the 70s and shut as a picture house in 1982, has undergone a £1.3m revamp.
A Golden Ticket premiere was held on Friday night, with the cinema opening to the public on Saturday.
Cumming, a patron of the project, sent a video message to mark the event.
Recorded on the set of Macbeth on Broadway, the Scottish star opened with lines from Robert Burns' poem The Birks of Aberfeldy, before welcoming the audience and congratulating the local community on their success with the cinema project.
He said: "It's an amazing achievement to have this beautiful building renovated in such a lovely fashion and I am so excited to have done my little part to make that happen too."
Cumming urged the film-goers to "be in the moment, people" and fully enjoy the film.
The Birks cinema was opened in 1939 and was designed to "promote happiness for the people of the town and attract visitors for the neighbouring countryside".
After closing early in 1982, it ended up as an amusement arcade, which in turn closed in 2004.
The new state-of-the-art 100 seat cinema also includes a cafe and bar and will act as a venue for other uses, including the screening of live sporting and cultural events.
The winners of seats at the Friday night opening came from thousands of Golden Tickets placed around Highland Perthshire.
General manager Paul Foley said: "The feedback we've received from local residents has been tremendous and we'd like to take this opportunity to thank the very many people and organisations who have played their part in helping us get here - we could not have done it without your support and for that we are truly grateful."
The film on show was Hollywood blockbuster Oblivion, starring Tom Cruise.