Judges apologise to Dundee academics over 'quack doctor' comment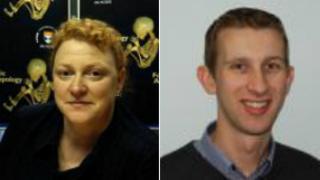 Judges have apologised to two Dundee university academics who appeared as expert witnesses after their judgement made reference to a "quack" doctor.
Prof Sue Black and Dr Craig Cunningham had given evidence at the trial of Kimberley Hainey.
Her case was quashed and the judges, Lord Clarke, Lord Mackay of Drumadoon and Lord Drummond Young criticised the use evidence from "quack doctors".
They have now said the reference was about the law in general.
Kimberley Hainey, 38, had been jailed for life and ordered to serve a minimum of 15 years for killing her baby son Declan at their home in Bruce Road, Paisley.
Last week appeal court judges overturned Ms Hainey's convictions for murder and attempting to evade justice.
Non-medical background
Forensic anthropologists Prof Black and Dr Cunningham had both been used as expert witnesses.
Prof Black, of Dundee University, claimed that so-called "Harris lines" in Declan's bones and what was described as "cortical erosion" were evidence of malnutrition and neglect.
That was rejected by the defence.
Prof Black's report was backed by Dr Cunningham. However, both admitted they did not have medical backgrounds.
In their judgement, the judges had said "it cannot be right for a trial judge to allow an obvious 'quack' doctor to speak to a subject in a supposed expert way in relation to which he has no qualifications".
Comment clarified
That statement was thought to refer to Prof Black and Dr Cunningham.
They have now clarified the reference was about the law in general and not any witnesses in particular.
They said: "We regret that our opinion in the above case has caused concern to the two forensic anthropologists who gave evidence at the trial, Professor Susan Black and Dr Craig Cunningham.
"We would like to make it clear that no such implication was ever intended. The statement is part of a general discussion of the law and is designed to illustrate one category of case where a judge should not allow evidence to go to the jury.
"It was not intended to refer to the facts of the case under consideration; nor does it refer to Professor Black and Dr Cunningham. We apologise to them for having failed to make that clear."
A spokesman for the University of Dundee said: "We note and welcome the statement today from the Justiciary of Scotland."