Perthshire Royal Navy officer accused of negligence after Cowes Week yacht crash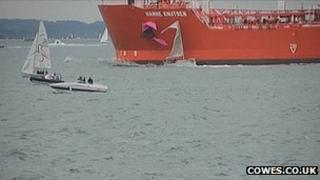 A Royal Navy officer from Perthshire has been accused of negligence after a yacht he was skippering crashed into a 120,000 tonne tanker during Cowes Week.
Lt Roland Wilson denies three charges of flouting maritime laws by cutting across a narrow shipping channel as the tanker navigated the Solent.
Magistrates in Southampton heard that the racing yacht skipper ignored a 3,300ft (1,000m) exclusion zone leading up to the collision in August 2011.
A trial date was set for October.
Lt Wilson was the skipper of the Royal Naval Sailing Association's vessel Atalanta of Chester when it allegedly crossed the path of oil tanker Hanne Knutsen on 6 August, 2011.
The court was told several people had to jump overboard from the yacht as it was dismasted and one crewman was left injured following the collision which happened during the final stages of a high-profile sailing race.
Lt Wilson denied one charge of failing to keep a proper look-out and two charges of impeding the passage of the 830ft long tanker.