Heritage Lottery Fund gives initial backing to Dundee's Verdant Works plan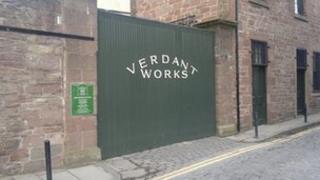 Plans to expand a museum celebrating Dundee's jute industry have received preliminary backing from the Heritage Lottery Fund.
The Dundee Heritage Trust is hoping to win £1.48m to complete the restoration of the city's Verdant Works.
The £2.2m project would see the site's High Mill and Glazed Alley preserved.
Development funding of £114,000 has now been awarded to the Dundee Heritage Trust to help them work on their funding bid.
The project will complete the restoration of the Category A listed Verdant Works.
The former jute mill in the Blackness area of the city opened as a museum in 1996 and is dedicated to the textile industry that once dominated the city's economy.
Essential works
Currently only half of the site has been restored.
The High Mill Open Gallery Project will see essential conservation work carried out to preserve the High Mill and adjoining Glazed Alley, which are currently derelict and on the Buildings at Risk Register.
Built in 1833, the High Mill is the oldest and most imposing part of the former industrial complex.
Once the work is completed, the heritage trust hopes to create a new 971 square metre exhibition space, allowing the museum to display some of the large industrial objects in its reserve collections for the first time.
Dundee Heritage Trust now has up to two years to submit fully-developed proposals to compete for the full £1.48m needed for the High Mill Open Gallery Project.
Gill Poulter, heritage director for the trust, said: "We're delighted that the Heritage Lottery Fund has given us this significant level of support which is fantastic news for the trust and the city.
"The project gives us the opportunity to create something new and different that will have a dynamic future of its own but which is complementary to the existing jute museum, helping to protect and enhance it."
Exciting times
Colin McLean, head of the Heritage Lottery Fund in Scotland, said: "The Heritage Lottery Fund is delighted to give our initial support to a project which will complete the transformation of the Verdant Works site.
"Incorporating these last two buildings into the existing five star visitor attraction will mean that significant pieces of machinery can be brought out of storage and displayed for the very first time. This is an exciting time for Dundee as it develops as a cultural visitor destination.
"It is only right that the heritage of the industry on which the town once thrived, plays a key role in that vision. We are excited to see how plans develop for the next stage of our funding process."