Aeroplane makes Dundee Airport emergency landing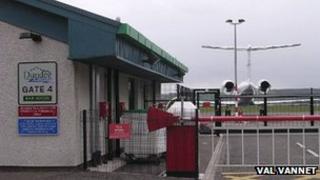 A small aeroplane has made a safe emergency landing at Dundee Airport after one of its propellers stopped working.
Police, fire, ambulance and coastguard services were called to the airport and a full emergency was declared at about 15:50.
Roads were closed around the city's Riverside and other flights halted but the aircraft landed safely at 16:20.
Two people had been flying the aeroplane between Carlisle and Dundee.
The pilot contacted air traffic control at the Scottish airport to say one of the propellers was not working properly.
A police spokesman said: "It was a small fixed-wing aircraft, it had a problem with a propeller and the landing gear but they obviously managed to get that out in time.
"The pilot contacted as it was coming in to land and a full emergency was declared but it landed safely.
"We have to treat theses things as a potential worse case scenario but it all ended well thankfully and no one was injured."