Wife-killer Nabeel Khan loses deportation case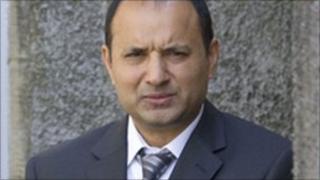 A German citizen who killed his wife at her home in Dundee has lost his appeal against deportation.
Nabeel Khan, 49, seized 39-year-old Iffat Kamal by the throat and compressed it during the attack on 10 December 2008.
Ms Kamal, a pathologist, died in Ninewells Hospital 10 days later.
Khan's original conviction for murder was quashed on appeal, but he was convicted of culpable homicide in 2011 following a re-trial.
Jailing him for five years and four months, Lord Matthews told Khan that he had "brought about the death of your wife and that has been the cause of a huge amount of grief for her family".
Pakistani-born Khan, a German citizen, was released on parole in January 2012 with conditions attached to his licence, but prior to him leaving jail he was served by the Home Office with a notice of a decision to make a deportation order.
He was later told that the Home Secretary had decided that, because of the seriousness of the crime and the risk of re-offending, deportation was justified on grounds of "public policy/public security".
Lawyers acting for Khan had gone to the Court of Session in Edinburgh after his appeal to a First-tier Tribunal (FTT) against deportation was rejected and he was refused permission to have his case heard at an Upper Tribunal (UT).
Refusing the move at the Court of Session, Lord Doherty said: "I reject the contention that the FFT was not entitled to conclude that the petitioner represented a genuine, present and sufficiently serious threat affecting one of the fundamental interests of society.
"I am satisfied that the FTT - and the judges who considered the applications for permission to appeal - took proper account of the relevant and material factors which were raised before them."
Lord Doherty said in his opinion the prospects of Khan succeeding in an appeal against the FFT ruling were "fairly poor", partly because of his relatively low integration into Britain and his strong connections with Germany.